DOSSIER Spanish presence in the Luxembourg financial services industry
Luxembourg's financial center boomed in the 1970s, taking over from the steel industry as the driving force of the country's economy until then. The country's strategic location at the heart of Europe and its traditional openness towards cross-border integration established it very early on as a major international financial centre.
It currently ranks sixth in Europe in the ranking of the world's most important financial centers, according to "The Global Financial Centers Index 31" (March 2022 edition).
Luxembourg is proud to have a state-of-the-art legal and regulatory framework, to lead the way in investor protection and to have a highly experienced regulator. Political, economic and social stability are the fundamental pillars on which the country has managed to develop and consolidate an attractive and strategic ecosystem for the sector, achieving sustained growth over time. Private banking, insurance and investment fund management are the pillars of its financial services industry.
Bilateral relations between Spain and Luxembourg are excellent and are mainly framed within the scope of the EU. In the context of the financial sector, the Spanish presence has increased progressively since the financial crisis of 2008. However, this representation is still far behind other European members such as Germany, France, Ireland or Italy, or other countries such as Switzerland and the United Kingdom.
Spanish entities present in the Grand Duchy have different motivations, entry strategies and products. However, most of them share a common factor: they see Luxembourg as a way to grow and diversify their offer.
This dossier addresses the Spanish presence in Luxembourg with special attention to the private banking, insurance industry, investment fund distribution, professionals of the financial sector (PSF) and capital markets areas.
First, and in order to place ourselves in the current context of Luxembourg's financial center, the main figures for the sector as of December 31, 2022 are presented in the following table, with a yearly comparison that allows us to analyze the latest trends in the national ecosystem.
Luxembourg Financial Centre
Main figures regarding the financial centre (Data as of December 31, 2022. Source: CSSF)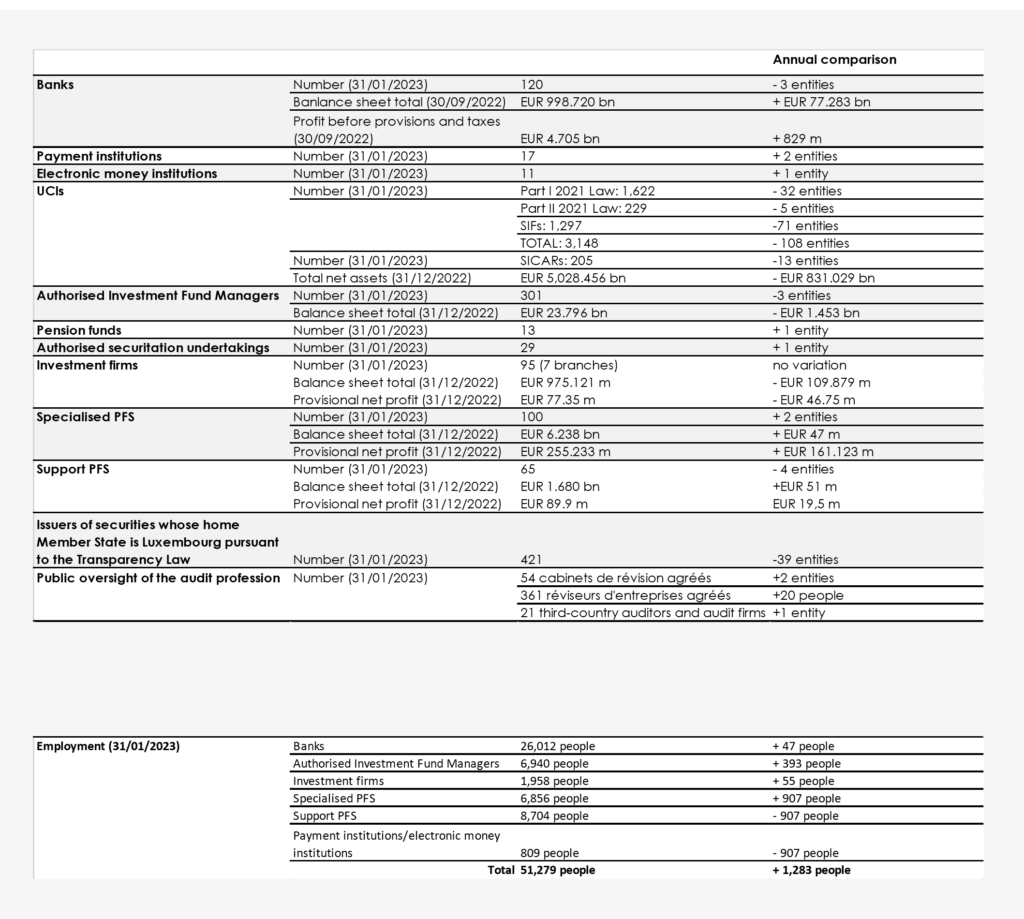 Private banking and wealth management
At the end of 2022, the banking sector in Luxembourg was composed of 120 credit institutions from a total of 27 different countries. Among them, 4 are from Spain, according to data provided by the Commission de Surveillance du Secteur Financier (CSSF).
The geographical diversity of the origin of banks established in Luxembourg is very representative of the international attractiveness of its financial sector. Although European banks have always had a significant influence on the evolution of the sector, the number of Chinese banks has almost tripled in recent years to 14 institutions. Luxembourg-based banks specialize mainly in private banking, life insurance and investment fund management. Only a small proportion of banks in Luxembourg are involved in retail banking for individuals. The banking sector has successfully adapted and diversified to respond to a growing demand for personalized management services and financial optimization.
In 2022, approximately 68% of private banking clients in Luxembourg came from other EU countries.
The banking sector in Luxembourg reached a balance sheet of €998 billion at the end of 2022, employing more than 26,000 professionals.
The Luxembourg wealth management industry is adapting to global trends, particularly in terms of the type of wealth: the client profile is now younger and more international, with an increasing percentage of entrepreneurs or family businesses that have passed on the business to the next generation. To serve this more versatile client profile, the industry is diversifying its services and adapting to a more innovative ecosystem. With its legislation, Luxembourg boasts a competitive advantage for the development of this industry. With more regulation and compliance requirements worldwide, Luxembourg is becoming an operational center for wealth banking clients. This target can receive personalized wealth management advice in Luxembourg, using investment vehicles that offer clients flexibility in their structure and organization, thus taking advantage of its consolidated financial sector and the commitment that Luxembourg has demonstrated in the development of such instruments. The private banking industry combines this new offering with its traditional fund and insurance services, with Luxembourg being a global platform for the distribution of investment funds and life insurance products.
The four Spanish banks operating in Luxembourg have developed their private banking and wealth banking divisions, opening up a range of solutions for both the banks and their clients.
Luxembourg leads the insurance industry in Europe, with 280 insurance and reinsurance companies established in the Grand Duchy (data June 2022, CAA). Among the factors for success in this sector, its regulatory environment is particularly well adapted to market requirements along with the quality of supervision by the Commissariat aux Assurances (CAA), the public authority that regulates Luxembourg's insurance market.
Unlike some of its neighboring countries such as Switzerland, Luxembourg has a strong international orientation in this sector.

Freedom of Services (LPS) regime
The EU has been working since the early 1990s to create a Single Market for insurance. Thanks to the Freedom of Services (LPS) regime, any licensed insurance company established in an EU member country can benefit from a European passport that allows it to operate in all other EU countries without having to be physically established there.
Luxembourg has been chosen by a large number of insurers as a gateway for the distribution of their products under the LPS regime throughout the European Union, which is a clear proof of its competence in this field and its highly favorable framework. Today, Freedom of Services regime represents the majority of the Luxembourg insurance market; more than 80% of insurance premiums in the Luxembourg market are written under this regime. Thus, Luxembourg life insurance companies offer solutions adapted to meet the problems arising from the mobility of European citizens and thus provide them with effective support when they change their country of residence.
Currently, there is no subsidiary or branch of Spanish origin focused on life and non-life insurance in Luxembourg.
However, Spain is among the top 5 most relevant markets in the international life insurance business of Luxembourg-based insurance companies.
In 2021, the 5 main markets of international life insurers represented 81% of the insurance products distributed in LPS. Over the last 5 years, the French market has remained the dominant market representing 45% of the global market in 2021. The main developments over the last 5 years are :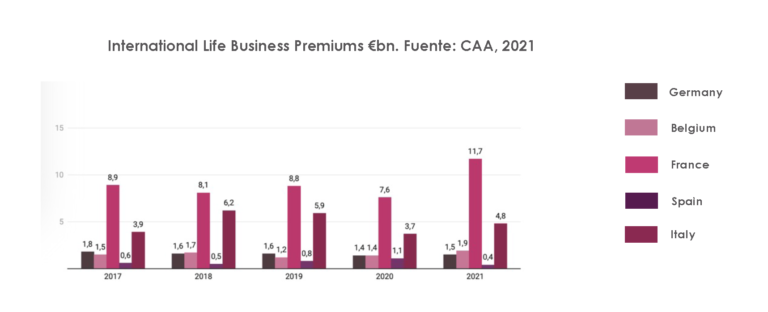 Despite a strong recovery of the Spanish market in 2020 (+48% to €1.1bn), we observe a sharp decline in 2021 with a drop of 62% to €0.4bn.
On the other hand, unit-linked contracts have seen their collection increase and now represent 78% of invested assets as of December 31, 2021.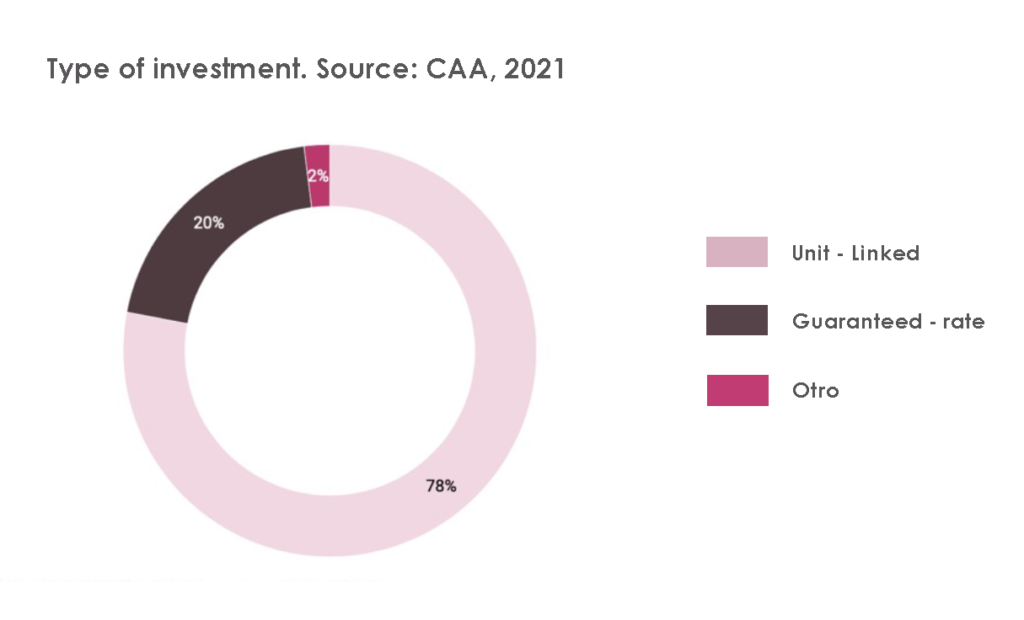 Reinsurance captive business
Several Spanish companies (Telefónica, Repsol, Naturgy…) have captive insurance companies in Luxembourg.
Captive insurance companies are insurance companies established with the specific objective of financing risks emanating from their parent group or groups, but they often also insure risks of the group's customers as well. Using a captive insurer is a risk management technique, by which a business forms its own insurance company subsidiary to finance its retained losses in a formal structure.
A captive can present commercial, economic and fiscal advantages to their owners resulting from the reduction in risk management costs. This will enable a business to provide a cover more suited to their needs than policies available on the traditional insurance market or alternatively not available on the market whatsoever – essentially bespoke Risk Management. Couple with this the ability to build up and set reserves assists in risk transfer management.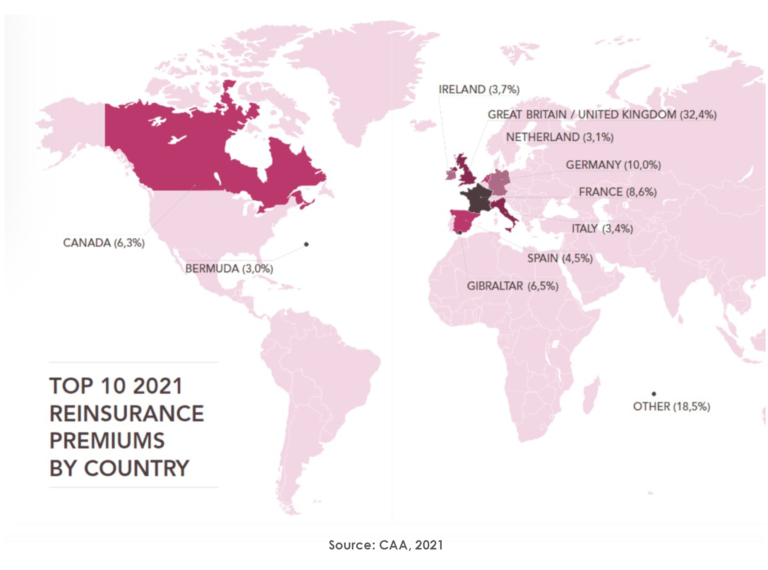 Luxembourg is the largest investment fund centre in Europe and the second largest in the world after the US. The country has created a modern and competitive legal and regulatory framework by rapidly adopting the European Directive on Undertakings for Collective Investment in Transferable Securities (UCITS I), which attributes a European passport to investment funds. It is the largest global distribution centre for investment funds, with its funds offered in more than 70 countries around the world, being the leader, for example, among Spanish asset managers in terms of cross-border fund distribution.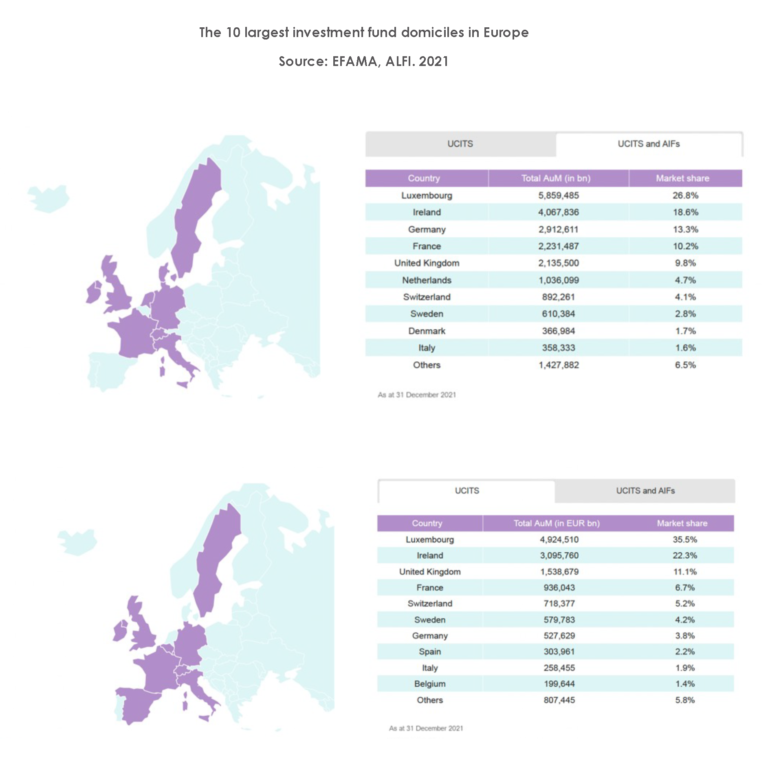 The number of Spanish asset managers that choose Luxembourg as a favorable ecosystem for the asset management industry has increased significantly. This decision is motivated by different factors: from attracting a more international and often institutional type of client to having products that are more likely to be included in Spanish discretionary management or private banking portfolios.
According to Morningstar data compiled by Fundspeople, the volume of Luxembourg-domiciled funds of Spanish management firms reached €15,363 million in February 2022. This figure represents an additional 9.3% over the previous year, and although the percentage in relation to the total business of the domestic industry remains very low, it confirms a trend in this industry. Most of the funds registered in Luxembourg with a Spanish label are equity and mixed products.
Specifically, they account for 37% and 31% of the offer, respectively, followed by fixed income, which accounts for 23% (Fundspeople data, 2022).
The ranking of Spanish fund managers with the largest assets in Luxembourg is led by Santander, Arcano, Mapfre, Bankinter, Grupo Banca March, Caixabank and Andbank España.
The number of Investment Fund Managers (IFM) authorized in Luxembourg in 2022 was 301, of which 4 are of Spanish origin.
According to the CSSF specifications, authorised investment fund managers (authorised IFMs) comprise the following types of fund managers:
Management companies subject to Chapter 15 (CH15 ManCo) of the Law of 17 December 2010 relating to undertakings for collective investment (hereinafter 2010 Law);
Authorised alternative investment fund managers (AIFMs) subject to the Law of 12 July 2013 on alternative investment fund managers (hereinafter 2013 Law).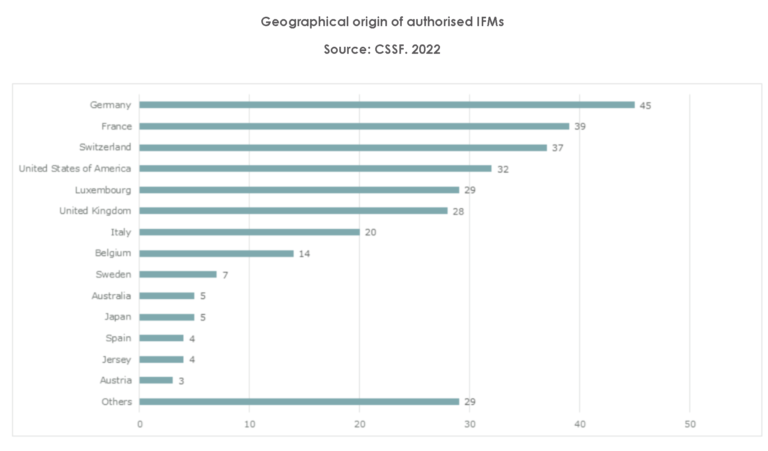 Professionals of the financial sector (PSF)
This denomination includes all professionals in the financial sector who, although they do not constitute credit institutions, must be supervised by the CSSF due to the nature of their activities.
These may be:
Investment companies (investment advisors, securities agencies, commission agents, asset managers, etc).
Specialized PSF (registration agents, professional custodians of financial instruments, operators of a regulated market authorized in Luxembourg, foreign exchange operators, etc.).
Support PSF (customer communication agents, administrative agents in the financial sector, IT system operators, etc.).
This category of companies specialized in non-banking financial operations is growing in volume of business in Luxembourg, as outsourcing of functions within the financial sector is becoming more and more important.
Currently, we can find many PSF focused on the Spanish market. Likewise, the number of Spanish professionals present in this type of entities is increasing steadily.
Luxembourg was a pioneer in the incorporation of sustainable finance into capital markets. In 2007, the Luxembourg Stock Echange listed the world's first green bond which was issued by the European Investment Bank. Green bonds have their own platform since the launch of the Luxembourg Green Exchange (LGX) in 2016, dedicated exclusively to green, social and sustainable bonds. With more than 900 sustainable bonds totalling EUR 440 billion, LGX plays a crucial role in facilitating sustainable investment across the world. LGX is the world's leading platform for sustainable securities and helps reorient capital flows towards investment projects with positive social and environmental outcomes.
As of March 2022, 9 Spanish companies and entities are using this platform to issue securities and social bonds:
Iberdrola Finanzas, S.A.U
Instituto de Crédito Oficial
Red Eléctrica Financiaciones, Sociedad Anónima Unipersonal
Merlin Properties, SOCIMI, SA
Caja Rural de Navarra Sociedad Cooperativa de Crédito
Red Eléctrica Corporación, S.A.
CBC Bottling Holdco, S.L.
LAR España Real Estate SOCIMI, SA
BELIV HOLDCO, S.L.
More information: https://www.luxse.com/search?dataType=issuers&lgxOnly=true&country=SPAIN
This dossier has presented the general context of Spain's current presence in the Luxembourg financial sector. Although, as mentioned at the beginning, Spain is not one of the European countries with the greatest presence in this financial market, its representation has been increasing progressively over the years due to the favorable framework that the country presents, and it is expected that this trend will continue over time.
But the Luxembourg market is not all advantages. Although many international players have opted for Luxembourg as a distribution hub, setting up in the country is no easy task. Adaptation and planning are required.
Another important factor to take into account is the dynamism of the Luxembourg labor market, a reality that makes it difficult to retain talent due to excessive staff turnover.
In short, organizations considering a presence in the Grand Duchy should analyze the potential benefits and strategic opportunities, such as approaching new clients, institutional audiences or international investors, while meeting the challenges of adaptation and planning in an ever-growing industry.