Many things have changed in recent times in the human resources sector, with both employers and employees having to adapt to a new way of working, resulting in a new standard beginning to take shape and notable trends emerging.
Thus, the Covid has changed attitudes toward building a career. People seem less interested in finding a paycheck commensurate with their experience, and more keen on flexibility as they search for meaning and purpose in their work lives. The result is a "war for talent".
Luxembourg has historically been an ideal location to find a job in financial services. The country has built a financial industry that is uniquely specialised in cross-border activities and has rapidly expanded along the value chain. It attracts individuals looking to work in most sectors of finance: from fund servicing and accounting to insurance, banking, or private equity deal making. The country ranks first worldwide for attracting talent (INSEAD 2021), with the non-Luxembourgers population representing 47,2 % of the total population (STATEC 2021).
However, the job market in Luxembourg is currently undergoing many shocks. While the unemployment rate has been steadily decreasing in recent months, companies are finding it increasingly difficult to recruit the right profiles.
In this context, a growing trend is observed in the arrival of Spanish professionals to join the Luxembourg labor market, and more specifically in the financial sector. Although there are no concrete figures on the number of Spanish people who have recently joined the Luxembourg financial sector, according to STATEC data, the Spanish population resident in Luxembourg has increased by more than 35% in the last five years (period 2017 – 2022). Spanish talent is highly recognized abroad, and the professional development opportunities offered by Luxembourg in this sector attract qualified profiles looking for international experience in one of the most important financial centers in Europe.
What are the trends affecting the human resources sector in Luxembourg? What does the Luxembourg market offer to attract and keep international talent? What type of profiles and what skills are required to develop a career in the financial sector? What initiatives are being taken by companies to keep talent? What legislative changes are affecting the sector? In this dossier we try to answer these and other questions, thanks to the collaboration of professionals in the field of human resources.
Key figures in the financial sector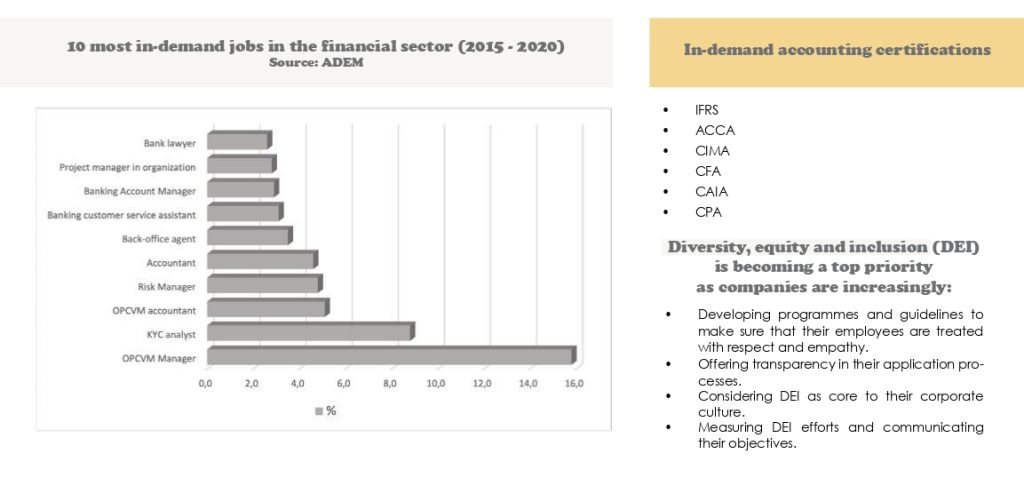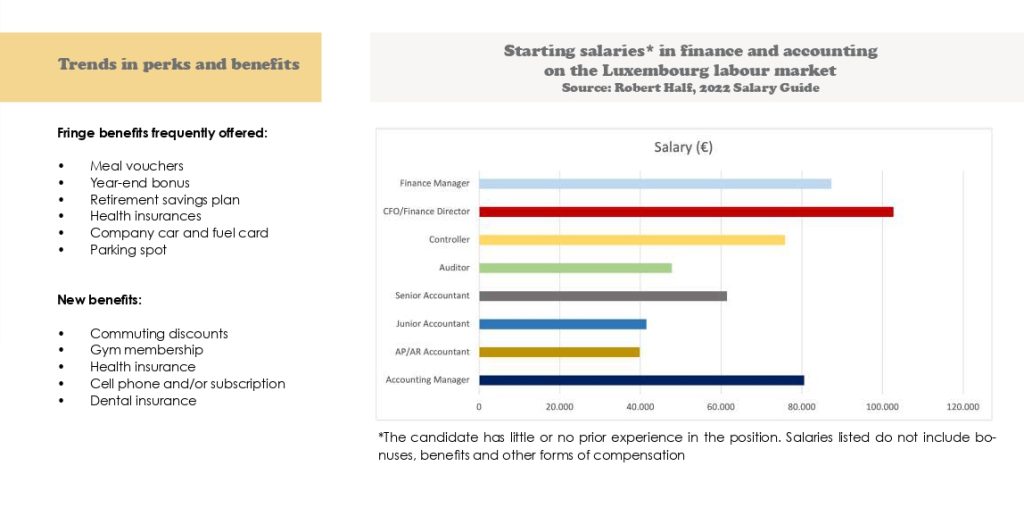 Key Skills
(Source: Luxembourg for Finance)
Finance is changing, becoming increasingly digitalised, sustainable and transparent and a new professional culture is increasingly becoming the norm. Due to this, a wide range of skills, both soft and hard, are critical for the future finance professional. These skills range from communication, relationship management and marketing & sales to data analysis, sustainable finance, programming and financial modelling. Alongside this change in finance, Luxembourg's financial centre has also been climbing up the value chain of financial services over recent years.
Luxembourg has grown into a regulatory, risk management and compliance competence centre. Many firms have built up teams in Luxembourg which serve as the group's regulatory nerve centre and global control tower. Since the financial crisis, risk and compliance functions have come to play a central role in the global operations of financial institutions. As a result, the functions performed in Luxembourg are becoming key to the global operations of these groups, which increasingly assign these functions a more prominent middle-office role.
More and more front-office functions, as well as an increasing number of key decision-making roles, are operating out of Luxembourg. Whether it is client relations managers that serve large banks from their Luxembourg hub or investment advisors and sales teams for asset management firms, or dealmaking functions for PE houses.
The sector is changing, and professionals need to adapt and acquire the necessary skills to meet the demands of an increasingly competitive and demanding industry.