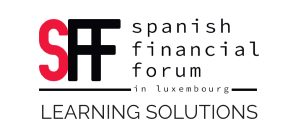 Within the framework of the Spanish Financial Forum working group, the Official Spanish Chamber of Commerce in Belgium and Luxembourg is launching a new training offer. These are the SFF Learning Solutions training focused on the Luxembourg financial market and will run from October 2022 to March 2023. These three modules, divided into four individual sessions, will take place in a hybrid format and are mainly aimed at young Spaniards who have recently arrived in Luxembourg and are interested in improving their employability by increasing their knowledge of the Luxembourg financial sector.
The topics covered in each training will be the following:
Private equity fundamentals (20 October 2022 – Duration: 3 hours)
This module will provide participants with an introductory overview of private equity, an explanation of its fundamental concepts and a basic understanding of this alternative asset class.
Compliance requirements in Luxembourg (24 November 2022 – Duration: 2 hours; and 26 January 2023 – Duration: 2 hours)
This module will address the fight against money laundering and terrorist financing, understanding the risks, assessing the threats, cybercrime, fraud prevention and its detection and sanctioning systems. It will also explain tax transparency and information exchange, detail the latest European and non-European developments in this area and analyse the latest initiatives in Luxembourg to improve tax transparency.
Corporate & Governance in Luxembourg (16 March 2023 – Duration: 2 hours)
This module will be an overview of the Luxembourg legal and tax considerations for the Corporate & Governance of a Luxembourg commercial company, with a special focus on governance, corporate bodies, main applicable laws and regulations, reporting obligations or available legal structures.
These pieces of training will be given by renowned professionals from multinationals and specialized consulting firms in Luxembourg and will include case studies.
The SFF Learning Solutions will be conducted in English in online and face-to-face format (Chambre des Métiers, 2 Circuit de la Foire Internationale, 1347 Luxembourg).
The registration fees for each training course are as follows:
Module 1 – Member price: 195€ + VAT / Non-member price: 225€ + VAT.
Module 2 – Member price: 260€ + VAT / Non-member price: 300€ + VAT
Module 3 – Member Price: €130 + VAT / Non-member Price: €150 + VAT
You can consult the full programme here. After each session, a networking cocktail will be offered to the attendees.
Participants who register for two modules will receive a 5% discount on the second module and a 10% discount on the third module for those who register for all modules.
Registration is now open via this link. Places are limited and reserved on a first-come, first-served basis.
Each student will receive a certificate of attendance at the end of each course, stating the programme attended and the number of hours taught.
In collaboration with: