On October 4th, the Official Spanish Chamber of Commerce in Luxembourg held the first edition of the Social Networking Night in Luxembourg.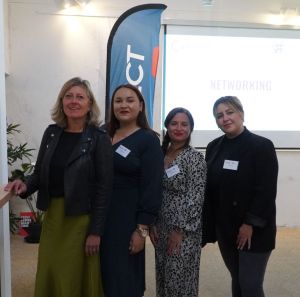 The objective of this event was to connect young Spaniards currently residing in Luxembourg with other Spanish professionals who have been settled in the country for years. In this way, those with more experience were able to share their advice and experiences with those who had just arrived in the country.
The event began with an introduction by the general secretary of the Chamber, Marta González Benguria, who thanked the participants for attending, as well as the company Select, for sponsoring the event. Subsequently, in order to increase the chances of finding employment, the Chamber presented its new SFF Learning Solutions training.
Then, Nathalie de Lira, Director of Select Luxembourg, and Michèle Pourigneaux, BELUX Sales Director, explained to the attendees how their company could help them to find a job and gave an overview of the current situation of the Luxembourg job search market.
The event continued with the participation of five Spaniards with extensive experience in the Luxembourg financial market who gave their perspective and advice to the young people. These were Paloma García Nieto Banca March Director; Rocío García-Santiuste Azcúnaga Counsel at Van Campen Liem, Vicente Garrido Mortes Director at PwC, Monica Hortelano López Director at Quintet Private Bank and Alvaro Laorden Head of Treasury & Market Services at RBC Investor Services Bank.
Finally, the event ended with a cocktail networking where newcomers to the Grand Duchy were able to talk, discuss their doubts and comment on the current situation with those who had more experience in the country.